In all our programs, hands-on training plays a critical role in the training and eventual success of our students. It is especially true for our students in our healthcare programs that include phlebotomy. We place emphasis on the safe practice of collecting adequate and correct blood specimens by capillary or venipuncture in adults, children and newborns. What better way to practice those skills than with live draws?
Last week in Lewiston and yesterday in Scarborough, students and staff volunteered so that phlebotomy students could practice their skills.  Students role play a patient's meeting with the phlebotomist from start to finish: asking questions for patient verification, review of orders, and explanation of the procedure.
We believe that these simulations are the best way to prepare our students to be ready to hit the ground running at their new place of employment. Best of luck to all these students as they continue their training.
Scarborough: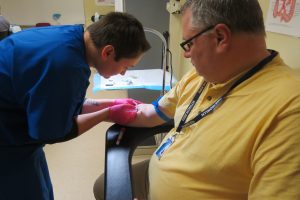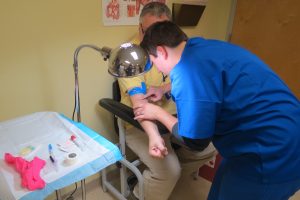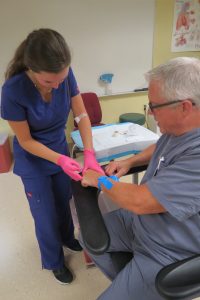 Lewiston: