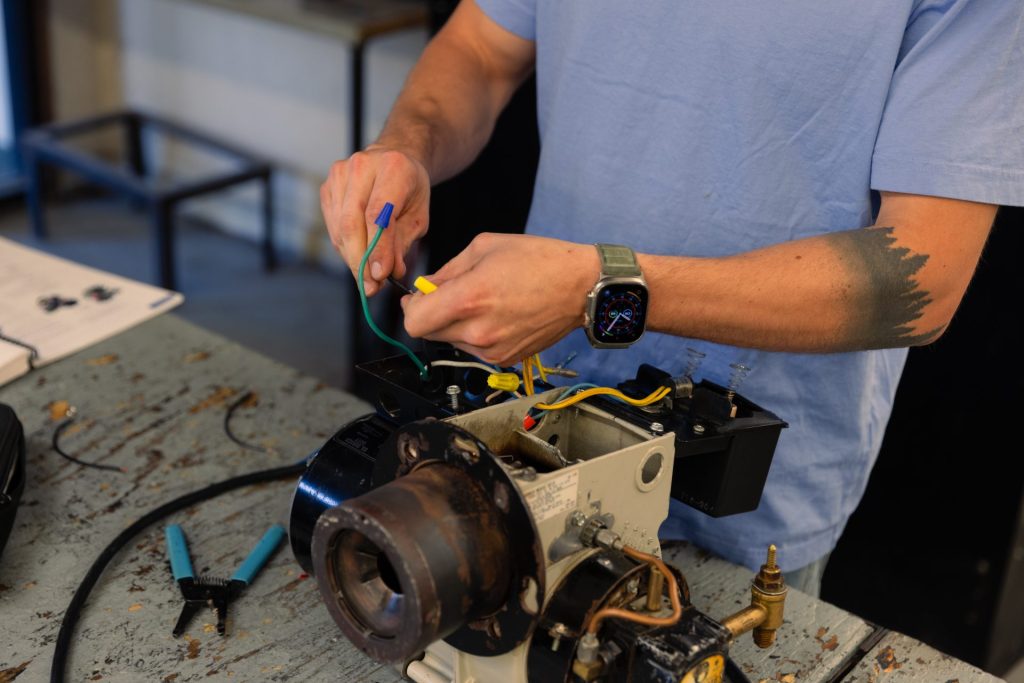 In today's rapidly evolving construction industry, HVAC technicians are in high demand due to a shortage of qualified workers. With approximately 80 percent of US construction companies struggling to find skilled professionals, the need for HVAC technicians has never been greater. This article will explore the reasons why HVAC technicians are in high demand and how individuals can position themselves for success in this field.
What Do HVAC Technicians Do?
HVAC stands for heating, ventilation, air conditioning, and refrigeration. HVAC technicians specialize in servicing air systems that regulate air quality in buildings. They can work in either commercial or residential properties, and their responsibilities may include repairing or installing equipment such as air conditioners or refrigeration systems.
Nationwide HVAC Job Outlook
The job outlook for HVAC technicians in the United States is promising. According to the Bureau of Labor Statistics (BLS), the demand for HVAC technicians is expected to grow by 13 percent between 2018 and 2028, which is faster than the average growth rate for other job fields. The US Department of Energy has also reported an increase in jobs supporting energy-efficient products, contributing to the growing demand for HVAC technicians. Additionally, government incentive programs encourage home and business owners to upgrade to energy-efficient systems, further driving the need for HVAC professionals.
Factors Driving HVAC Job Growth
Several factors contribute to the high demand for HVAC technicians. One significant factor is the emergence of new technologies in the HVAC industry. Scientific breakthroughs have led to the development of more complex and advanced HVAC systems. As a result, homeowners and business owners require the expertise of trained technicians to perform preventative maintenance and repairs on these systems. The demand for new installations is also on the rise as older HVAC systems become less efficient and need replacement.
Opportunities for skills advancement play a crucial role in the growth of the HVAC job market. As technology continues to advance, HVAC technicians can further their skills and diversify their portfolios through certifications. One such certification is the Section 608 Technician Certification, which is required by the US Environmental Protection Agency for all HVAC technicians servicing refrigerant gas storage equipment. Additionally, HVAC professionals can pursue extra-national certifications like the North American Technician Excellence (NATE) Certification and HVAC Excellence Certification, which demonstrate their expertise and make them more marketable.
Job Variety in the HVAC Field
The HVAC field offers a wide range of job opportunities beyond traditional HVAC technicians. HVAC engineers, installers, and managers are among the various specialties within the industry. HVAC engineers are responsible for designing systems, collaborating with technicians during installations, and executing repairs. They can work for HVAC firms, government offices, equipment manufacturers, or engineering firms. HVAC managers play a crucial role in supervising technicians and managing projects related to heating, ventilation, or air conditioning systems. Installers, on the other hand, focus on repairing, installing, and maintaining ventilation and air conditioning systems in buildings. These different job roles provide diverse career paths within the HVAC industry.
Essential Skills for HVAC Technicians
HVAC technicians possess both hard and soft skills that contribute to their expertise in the field. Hard skills include technical knowledge of air quality maintenance, load calculations for cooling and heating systems, and the design and construction of interior environmental control systems. Soft skills, such as mechanical understanding, physical strength for equipment handling, dependability, and clear communication, also contribute to their success in the industry.
Aging Workforce and Future Opportunities
With the average age of HVAC professionals being around 54 years old, a significant number of HVAC technicians are expected to retire within the next decade. This aging workforce, combined with fewer professionals entering the HVAC field, creates a significant need for qualified HVAC technicians. As a result, individuals entering the HVAC industry can expect a reliable and long-term career with ample opportunities for growth and advancement.
How to Pursue a Career in HVAC
If you're considering a career in HVAC, there are several steps you can take to position yourself for success. Researching different HVAC specialties and certifications is a good starting point. The North American Technician Excellence (NATE) website provides valuable information on HVAC specialties and resources for finding testing sites. Additionally, contacting local HVAC trade school career centers can provide insights into the qualifications needed and the latest technological advancements in the industry.
Trade schools like IntelliTec College offer HVAC/R training programs that prepare students for entry-level careers in the HVAC industry. IntelliTec's Refrigeration and HVAC Technician program combines classroom instruction with hands-on learning, preparing students to install, service, and repair residential and commercial air conditioning, heating, and ventilation systems. The program also covers maintenance and repair of commercial refrigeration systems. Graduates of the program receive their Associate of Occupational Studies (AOS) Degree and qualify for industry-recognized professional certifications, including the EPA ESCO certification, OSHA 10, and the 410A. IntelliTec provides practical training in electrical controls, system maintenance and repair, refrigerant recovery and evacuation, and various other essential skills needed for a successful HVAC career.
Conclusion
As the construction industry continues to face a shortage of qualified workers, HVAC technicians are in high demand. The growing need for energy-efficient systems, emerging technologies, and the aging workforce of HVAC professionals contribute to the job growth in this field. Pursuing a career in HVAC offers stability, diverse job opportunities, and the chance for continuous skills advancement. By obtaining the necessary certifications and training, individuals can position themselves for a rewarding and long-term career as an HVAC technician. With the assistance of trade schools like Northeast Technical Institute, HVAC professionals can gain the specialized knowledge and skills needed to succeed in this dynamic industry.