|
|
Northeast Technical Institute's HVAC/R Program Providing New Career Opportunities and Helping Local Businesses
New classes now enrolling in Bangor and Scarborough
Bangor, ME—Nationwide, an unfortunate trend is continuing with fewer and fewer young people choosing trades as their career path. The HVAC/R program at Northeast Technical Institute is designed to reverse that trend.
According to a February op-ed piece in the Portland Press Herald, HVAC/R technician is among the fastest growing job sectors in Maine. Our conversations with our business partners confirm this fact. More importantly, they tell us that they are struggling to fill positions. Despite the low unemployment number statewide, employers have a dire need for skilled workers.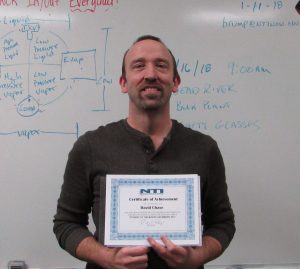 Looking to learn new skills, David Chase enrolled in the program with hopes of a career change and has excelled during his time in school, earning Student of the Month honors in December.
"I had no mechanical experience really to speak of. Through the classroom instruction and laboratory experience, I gained all the knowledge I need to make a successful career in the HVAC field," said Chase.
Chase worked with the team at Northeast Technical Institute to seek employment, and R.H. Foster Energy was a great fit.
"I am working with R.H. Foster now as a service technician and will be full-time once I graduate. I already have my six months towards my journeyman's oil license with that experience. Then, I'll be a journeyman oil burner tech, and I'm already a gas propane tech," he added.
A partnership with R.H. Foster Energy is a natural match, and they have recently hired five Northeast Technical Institute graduates.
Erica Cole, Operations Manager at R.H. Foster Energy, is excited to have Chase joining them: "He has been inquisitive and eager to learn. Not knowing on a weekly basis if he will be cleaning furnaces, setting propane tanks, or assisting with installations, he has been very flexible. The team at R.H. Foster Energy are all looking forward to Dave joining our team as a full-time employee after his graduation."
Starting a new career can be a challenge, which is why Northeast Technical Institute works with students every step of the way. The programs are designed to ensure that graduates are job-ready on their first day. For our HVAC/R students, this means true hands-on training. We understand that if students are looking toward a career in HVAC/R, they likely excel at working with their hands, and we focus on this in the classroom. As a result, and along with the classroom time, graduates are fully prepared to earn both their NORA and CETP certifications, which are each necessary for an HVAC/R career.
The next HVAC/R Technician Program begins in Bangor on May 21. Classes are also held in Scarborough with limited openings in the May 14 class, but space is available for the July 23 start.