It's no secret: New England is suffering from a shortage of skilled workers. For example, the Boston Globe reports that Information Technology workers are hard to find and this can lead to bidding wars in the hiring and retention of programmers and analysts. According to the Globe, the shortage of technology workers is the top challenge for a lot of New England companies, most acutely in Massachusetts, where it is impacting the state's reputation in innovative economics.
The hiring war is brutal; worse even than the dot-com boom of the 1990's decade. When companies cannot hire the talent they need, it is difficult or impossible for them to expand, develop new technology, and keep growing.
In cybersecurity, for example, demand is booming and the stakes are high on many levels. Cyber-attacks are on the rise–increasing 48% in 2014, according to PWC–and are expected to increase even more due as phones, appliances, and cars become Internet ready.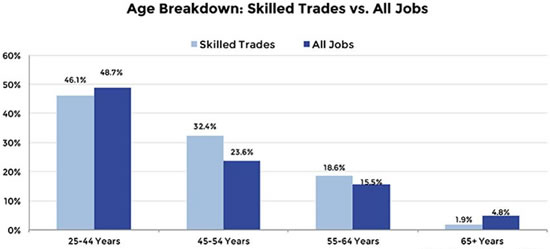 The population of New England is aging at a quicker rate than the rest of the U.S. Birth rates are down and younger people often leave the state to live and work elsewhere. As New England grows older and lives longer, health care demands are growing quickly. Immigrants are filling the gap of desperately needed skilled workers in healthcare, according to the New England News Collaborative.
Due to the aging population and lack of native health care workers, New England's reliance on immigrant labor for health care (including support occupations such as medical assistants and coding and billing workers) will continue to increase. The current conditions make healthcare a great field for anyone willing to live and work in New England. The entire region has some of the oldest states in the nation. Its six states account for the six lowest U.S. birth rates. Barry Bluestone, of public policy department at Northeastern University, predicts that in Massachusetts alone, 93,000 additional health care workers over the next 10 years.
On top of that, New Hampshire's 2.8 percent unemployment rate, one of the lowest in the nation, means the labor pool is already shallow.
"We're having to rebuild the entire pipeline of workers," said Katrina Evans, assistant director of the state's Economic and Labor Market Information Bureau. "It's not even so much a skills mismatch as it is a warm body mismatch."
According to the Valley News, New Hampshire is desperately seeking skilled labor. Nationally, in 2015, The Manufacturing Institute and Deloitte reported a skills gap that is substantial and growing. The report indicates that over the coming decade 3.5 million manufacturing jobs will need to be filled as the workforce ages and retires. Due to the difficulty of finding and training skilled workers and New Hampshire's low unemployment rate, an estimated 2 million of jobs will not be filled. The report surveyed CEOs, and 82% confirmed that the skills gap drastically impacted their ability to meet demand for their products. Similarly, 78% said it interfered with their abilities to adopt new technologies that could increase productivity.
In 2014, the American Trucking Association (ATA) reported a shortage of 35,000 and 40,000 truck drivers nationwide, even more acutely in New England where an aging population and low unemployment increase the gap. Trucking companies reported they had idle trucks and cargo due to a lack of drivers.
According to the ATA, trucks move 70% of U.S. cross-country freight. The driver shortage impacts consumer prices because low demand increase the cost of labor. With declining recruitment, the ATA estimates that as many as 100,000 drivers a year are needed to keep up with the needs of an expanding economy.
Contractors such as plumbers, HVAC workers and construction workers are in short supply in Maine in recent years, according to the Portland Press Herald. Matthew Marks, of the Associated General Contractors of Maine, which is a trade organization representing 180 companies, attributes the problem to the two recessions since 2000. Construction in Maine sharply declined and much of the workforce moved elsewhere.
There is money to be made in these positions, but it isn't very attractive for experienced workers, who can, frankly, make more money elsewhere. The average salary in Maine, as of May 2015, for electricians was $48,240, and for the HVAC industry was $48,780, according to the Bureau of Labor Statistics. This offers a unique opportunity for newcomers to the field.
Companies are working hard to attract people to the workforce, and there is ample opportunity for skilled, educated workers to find jobs in New England in these fields.